Date
Thursday, 03 Aug 2017 7:00 PM
The IAF Book Discussion Group is an ongoing effort to provide interesting intellectual conversations for members of IAF and other interested parties on texts and topics relevant to the Secular perspective.
For this session the group will conclude our series on fictional texts. It has been a productive series so far as we've built up to the more serious discussion series this Fall dealing the mechanics of Propaganda, a particularly relevant topic in this the age of Right-Wing 'Alternative' facts and so-called 'pervasive left-wing media disinformation'… As previously stated, the book of choice is "1984" – another text of dystopic fiction, by the classic author George Orwell.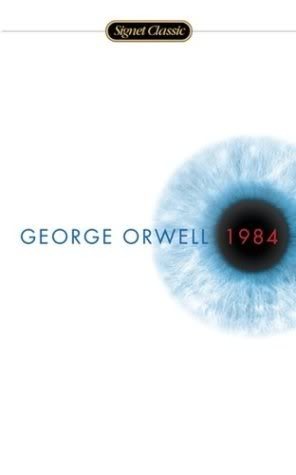 Note: The above image represents one of many editions of this fine text. It is not meant to represent the exact text one must read for our purposes.
For this, and all subsequent sessions, please be prepared if possible, to present things from the reading assignment that stood out for you so that we can gain a good cross-section of individual perspectives where the reading is concerned. Consider questions of content, such as particular passages that really jumped out at you or particular facts/ideas you found interesting that you might want to explore further. Definitely don't be afraid to ask questions about concepts and ideas that are new to you.
The conference room that has been reserved at Kirkendall Public Library has a maximum capacity of 20 so RSVP early to get a seat. Social time will be available from 6:30 to 7 PM if you want to come and just chat before the discussion begins. We'll see you there. 🙂
You can read about the book by going to the Goodreads page for the title HERE.
If you prefer, though, here is a brief synopsis of the title from the same –
"The year 1984 has come and gone, but George Orwell's prophetic, nightmarish vision in 1949 of the world we were becoming is timelier than ever.
1984 is still the great modern classic of "negative utopia" – a startlingly original and haunting novel that creates an imaginary world that is completely convincing, from the first sentence to the last four words. No one can deny the novel's hold on the imaginations of whole generations, or the power of its admonitions – a power that seems to grow, not lessen, with the passage of time."